Glass garage doors will take your home to a higher level of grace and elegance.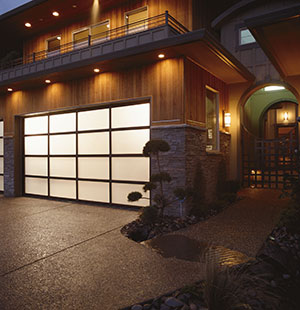 However, the high price of a glass garage door, really, makes it a luxury rather than a necessity. A glass garage door will give your home a higher overall value. They require more maintenance than other options for garage doors. Their maintenance can be a project that keeps you busy all year round. Glass garage doors, not surprisingly, offer almost no security from intruders. If you live in an area, where your garage needs to be secured, a glass garage door will not be a good option. The experts, at the Auburn garage door company, can help you decide if a glass garage door will be right for you.
Before you start looking for the right glass door, the garage door space will need to be measured. You can do this yourself or let the trained professionals, at the Auburn garage door company, measure it for you. The size of the space you are working with will decide the price range of glass doors you will be looking to purchase. The size of your glass door will affect almost all of the elements that go into the door. The only way to get a glass garage door right now is to have one custom made for your specific space. The measurements must be accurate.
Garage door repair services committed to serve customers.
There are many glass garage door styles that the Auburn garage door company can offer you. You can choose from many styles of not only glass, but also frames. You can choose to have a glass garage door with a metal or wood frame. A metal frame will give your glass garage door more durability over time, but many homeowners choose wood because they think it looks better. The glass that goes into a glass garage door also has various styles. The glass can be clear, frosted, or tinted in varying degrees of darkness. The glass can vary in thickness, too. You can also get glass garage doors that have metal supports inside the glass that appear as mesh. This type will last longer and will have fewer issues. Of course, this type of glass garage door may not look as good to some.
The style of glass garage door you choose will have a drastic effect on the price. By working with the professionals, at the Auburn garage door company, you will be able to get the best price around. Metal frames are going to be less expensive than wooden frames. Thick glass that is clear will cost less than glass that has been tinted. Also, the glass with the metal support running through it will actually cost less since the glass does not have to be as thick due to the added support of the metal. Regardless of their minor differences, glass garage doors are more expensive than any other type of garage door. The biggest factor of cost is going to be the overall size of the door. Obviously the bigger the glass garage door is, the more it is going to cost.
As stated before, a glass garage door is going to need much more maintenance than any other kind of door. You will need to clean your glass door more often to keep it looking good. You should only use cleaning products made specifically for glass every couple of days. You will want to use a squeegee as well instead of a rag to keep the glass looking clear and shiny.
If you get blemishes in your glass door, it is best to call the experts, at the Auburn garage door company, to repair them.
They may be able to just repair the glass or replace it.